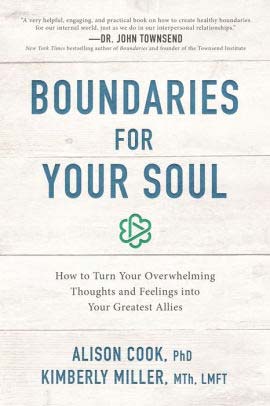 Boundaries for Your Soul
by Alison Cook, PhD, and Kimberly Miller, MTh, LMFT
(Nelson Books, 2018)
Alison Cook and Kimberly Miller practically teach how to take the most troublesome emotions in your life, such as anger, fear, sadness, and shame, and turn them into your greatest allies. If you often feel like your emotions are controlling you and negatively affecting your relationships, Boundaries for Your Soul will provide the encouragement and strength you need to give your emotions a valued place in your life without causing undue chaos. If you enjoyed Boundaries by Dr. Henry Cloud and Dr. John Townsend (Zondervan, 1992), which teaches how to have healthy relationships with others, you will also benefit from Boundaries for Your Soul, which teaches how to have a healthy relationship with your inner world.